The wall decorations are an alternative to wallpaper. The common effect is to give character to the room, choosing a wall to focus on.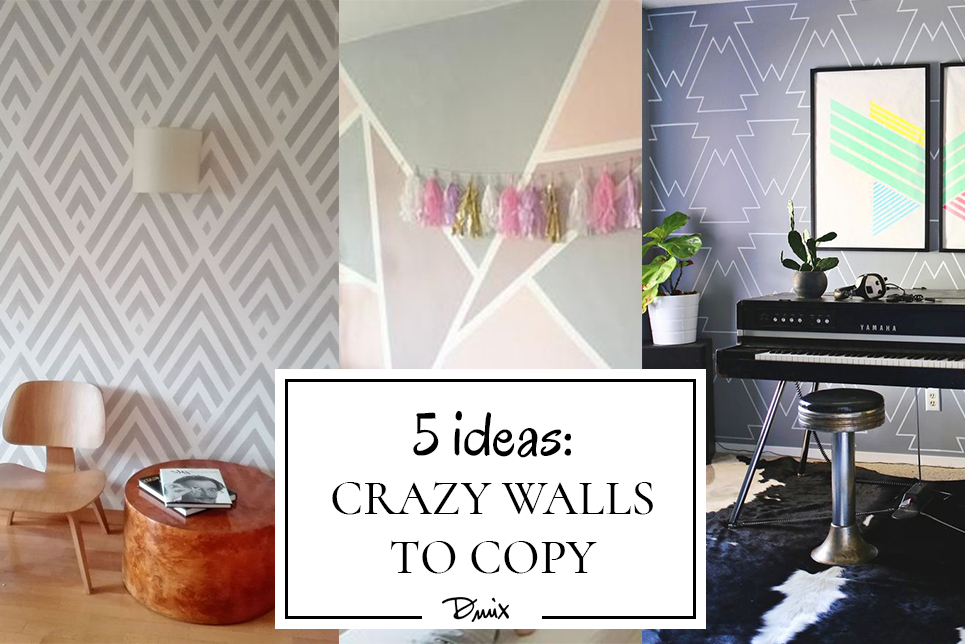 The values of a wall made with painting and paper scotch are:
the original and unique character being an ad hoc project;
easy maintenance and removal, in case we did not like the result;
economic savings, which is not bad.
To create a wall effect decoration, you can use the templates in several ways:
stencil;
scotch of paper;
stamps.
The materials to make the templates are more economical, for the stencils, for example, we use acetate sheets, from which we obtain the pattern chosen with a cutter. For simpler geometric reasons, paper scotch is the best alternative: easy to apply (and remove), it does not damage the wall, it's easy to found it in do-it-yourself stores. Finally, you can make molds with corrugated cardboard, then with an economic and recycling material.
Here are the best proposals for decorative walls to copy.
# 1 Maxi geometries
Big geometries are very trendy this year and colors play an important role.
Super easy, to be recreated with a paper scotch. They are chic in a single color, more vitaminic if painted with a palette *.
Ease
Creativity
Cost **
Effect  WOW!
* As always for color palettes, a point of reference is the Design Seed's site, one of my favorite blogs. So many ideas whether you have clear ideas, or that you are nowhere near the choice.
** Do-it-yourself cost, different if the work is done by a specialized company.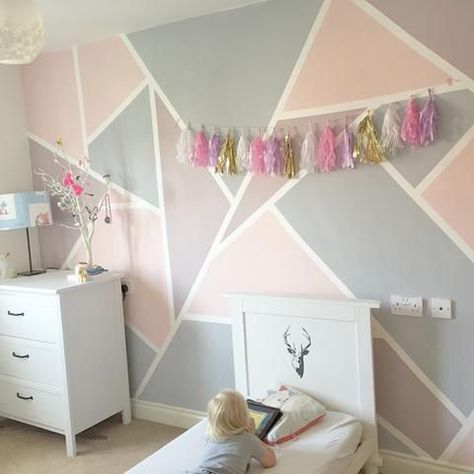 # 2 Maxi and decorated triangles
This is a sub-category of the previous example. The tape is used, as before, but it is possible if you have a steady hand to recreate the perimeter freely. The effect changes, in the second case it is more rudimentary and coarse and the handmade aspect stands out.
Ease
Creativity
Cost **
Effect
Here in the two-colors version.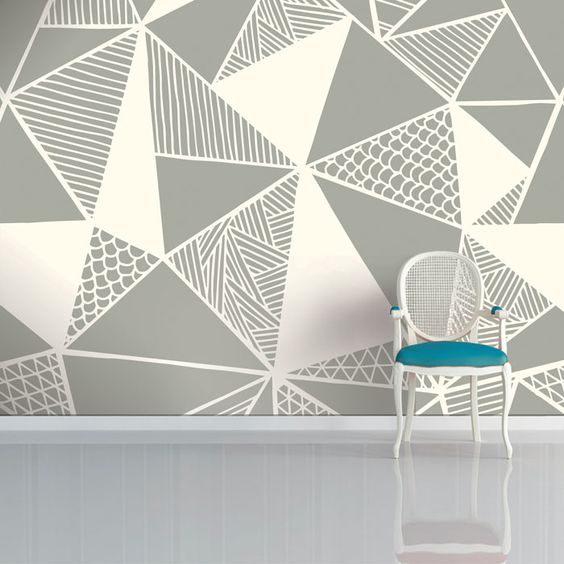 # 3 Geometric Scales
I personally find this pattern very chic. Crazy the effect, even if there are some imperfections. The difficulty level goes up. To make this design you need a stencil, which can be made with a sheet of acetate and a loooot of patience.
Ease
Creativity
Cost **
Effect  WOW!
Here in the dark version, in blue.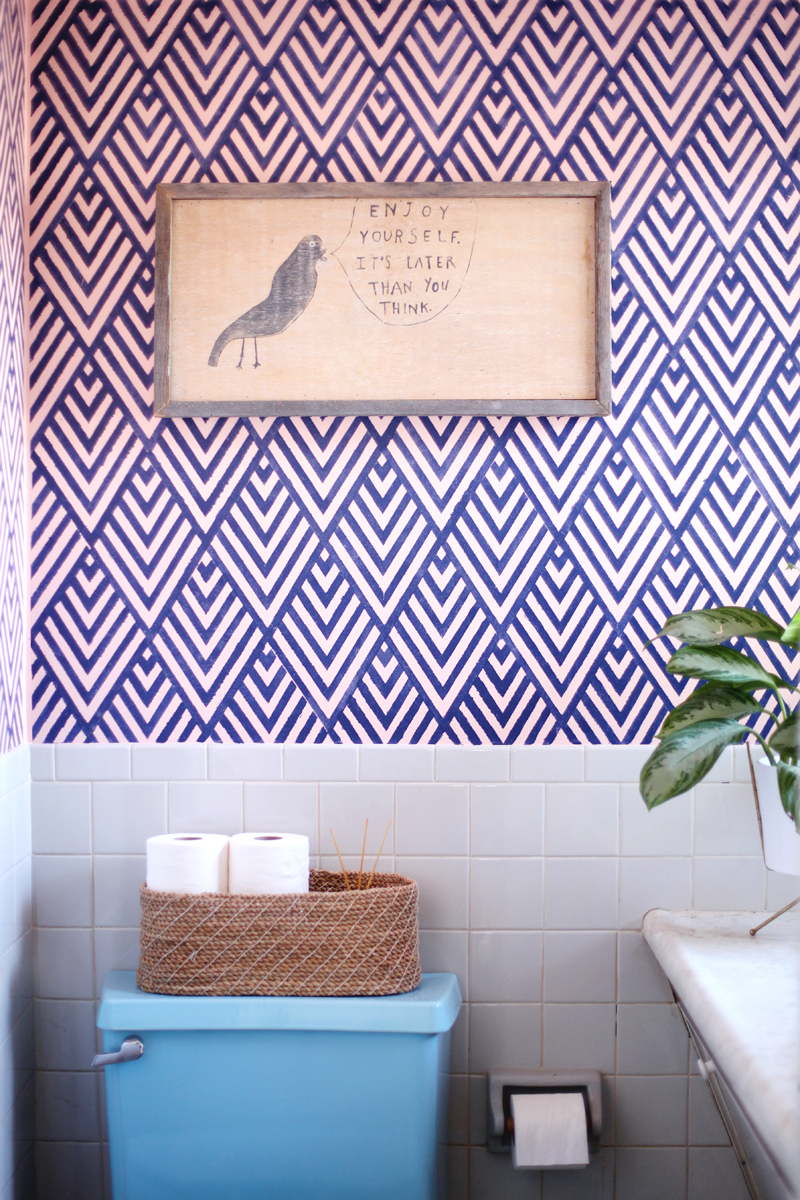 Very elegant here in turtledove.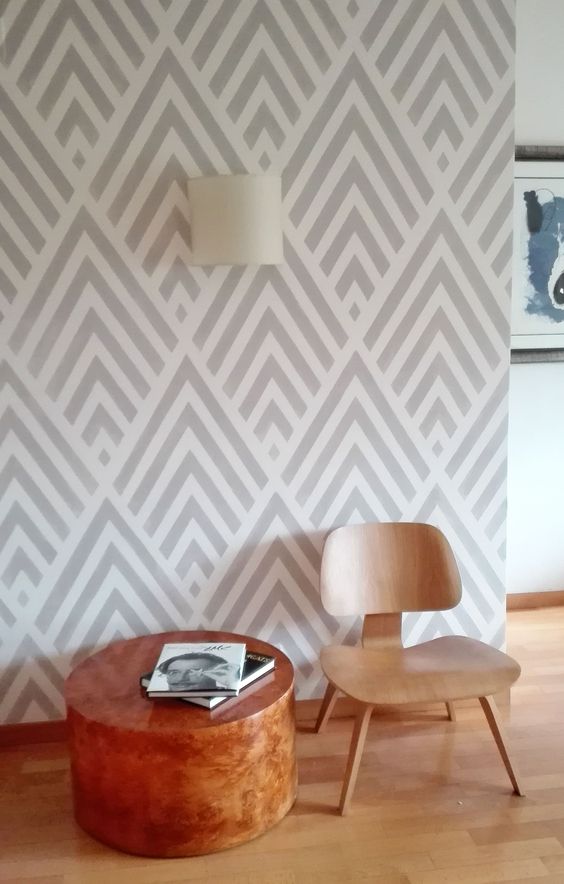 # 4 Ear of corn
A simple model, to be created with paper scotch and the right combination of the two colors. Light base and dark ear or vice versa as in the picture? That depends on personal taste, in any case, the WOW effect is guaranteed.
Ease
Creativity
Cost **
Effect  WOW!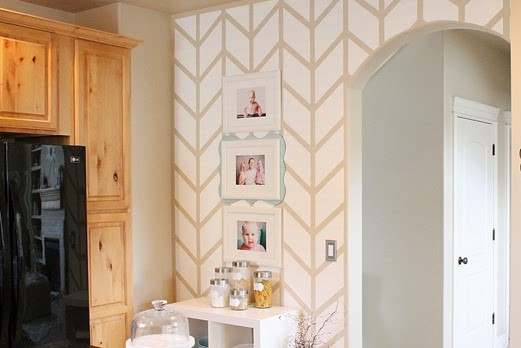 # 5 Pen Pattern
If you are unfamiliar with painting, this is the right alternative. You need corrugated cardboard, a little imagination to choose the pattern, geometry plays a major advantage, a proper marker (even UniPosca are fine) and you're done.
Ease
Creativity
Cost **
Effect